Can I Install Nano Server on VMware?
What is Windows Server Nano
Windows Server Nano is a stripped-down version of Windows Server 2016 that runs as a Shell. It has no GUI and you have to install it off the Server 2016 media using PowerShell. It is not possible to locally configure a Nano server in any other way. Nano is extremely popular on cloud services such as Amazon Web Services and Microsoft Azure due to the limited resources required to run it. Out of the box, PowerShell is needed to write the Nano image in VDHX files which are compatible with Hyper V. To use in VMware you have to take additional steps to convert the image to a VMware compatible image (VMX).
How does Windows Nano Server differ from Windows Server Core?
To be completely honest, I find the Microsoft marketing over Server Nano / Server Core confusing. Server Core has no GUI and is a headless deployment option, you could run HyperV, Containers, and pretty much all Windows Server built-in features such as Server Manager.
Server Nano is officially the replacement for Server Core. Nano is a much more stripped back version of Windows Server Core, it focuses on container deployments and Web Application services and it is great at handling .NET applications on a secure platform.
How to install Windows Nano Server
All steps are demonstrated below in detail.
Where can I get Windows Nano Server media?
You will need one of the following:
Windows Server 2016 installation media (ISO)
Windows Server 2019 installation media (ISO)
Windows ADK (Assessment Deployment Kit)
The Official Windows Nano Docker Image
My Lab setup
To demonstrate Windows Nano Server setup and configuration I have used the following Lab Setup.
VMware Workstation
Windows Server 2016 ISO image
PowerShell (with administrator rights)
Starwind VMware convertor or equivalent
Installation guide
NB – Where possible always use the "Run as Administrator" option from your workstation
Mount the Windows Server 2016 media to your computer. (usually by double-clicking on the ISO)
Navigate to the NANO Server Folder > NanoServerImageGenerator and copy the 3 files below to your computer. In this example, I will copy to C:\Temp\
Open PowerShell (run as administrator)
Type the following in the Administrator PowerShell session:
Set-ExecutionPolicy -Scope Process -ExecutionPolicy Bypass
Select YES to allowThis will allow your computer to run the Nano scripts
Navigate to where you copied the Nano Scripts. For Example cd C:\Temp\
Type the following in the Administrator PowerShell session:
Import-module C:\Temp\NanoServerImageGenerator.psd1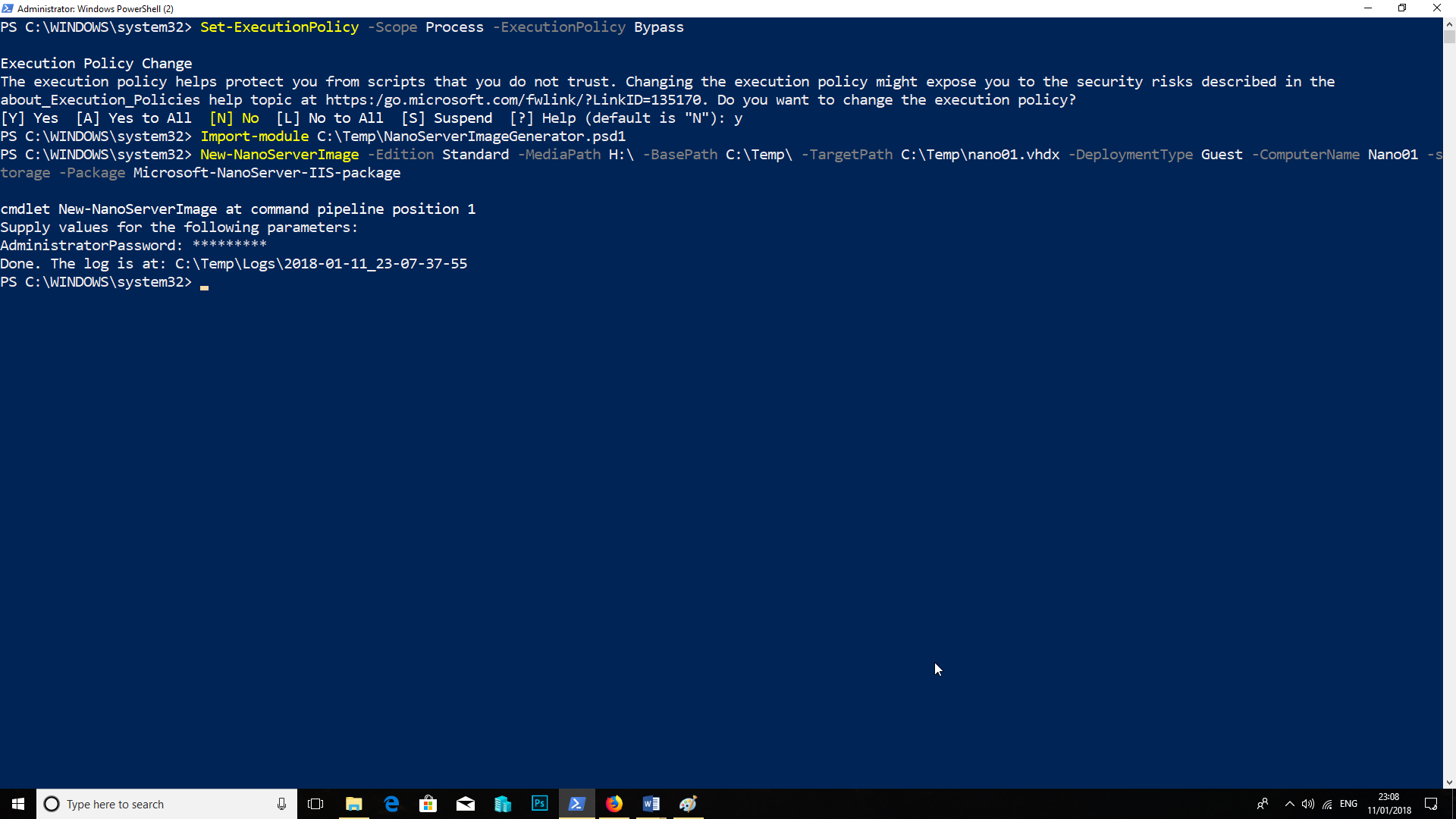 Type the following in the Administrator PowerShell session:
This will create your image in the standard edition.
From my DVD ISO which is mounted to my H: drive
It will create a server called Nano01 in C:\Temp
You will be prompted to create your ADMINISTRATOR password for the server.
Next, the server will build the NANO Image. This might take some time to complete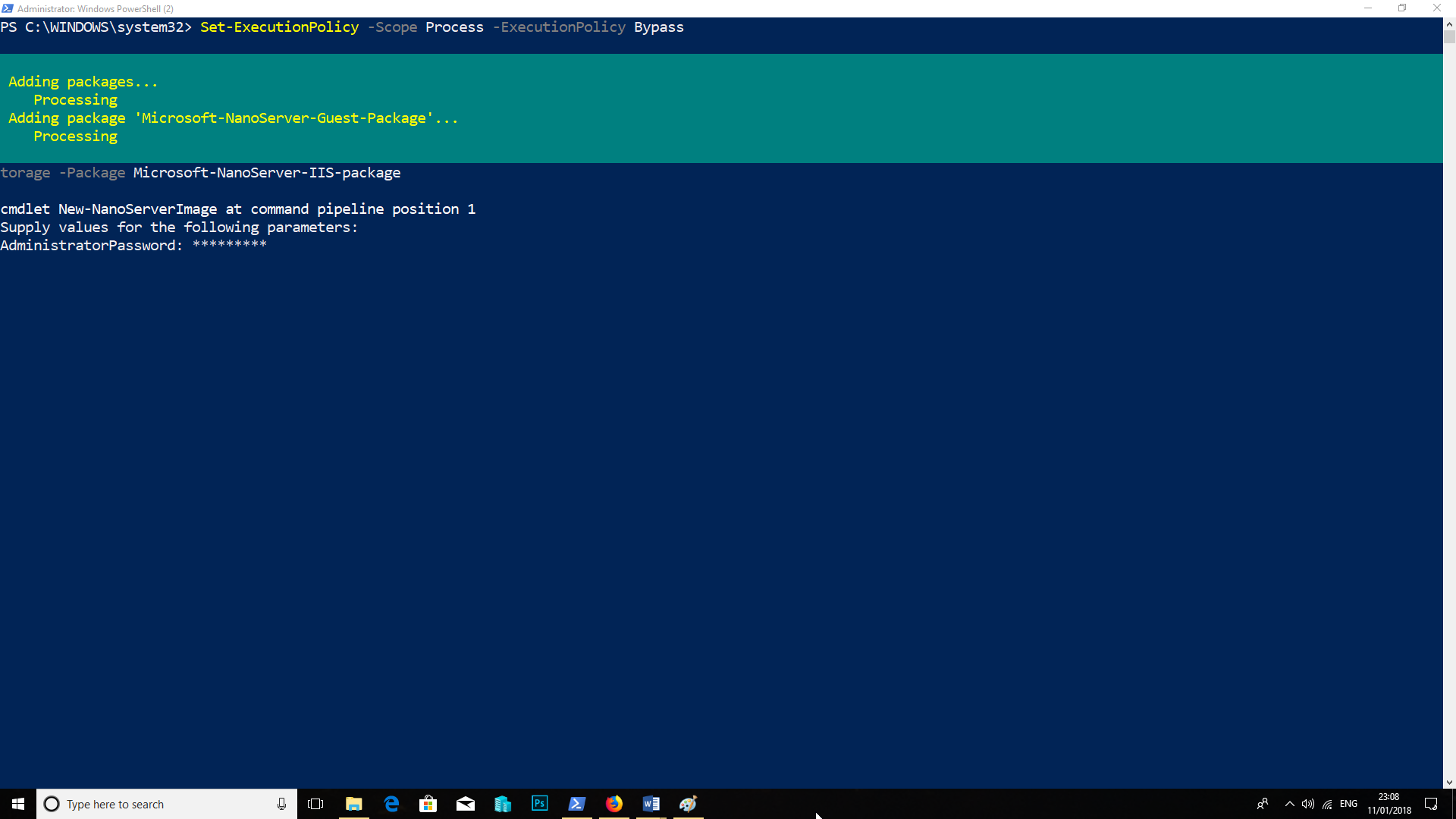 Once complete you will receive this message
"Done. The log is at: C:\Temp\Logs\2018-01-11_21-12-56-61"
This will create the image on your local computer called Nano01


Next, you need to convert the image to work in VMware Workstation
The easiest way is to use a 3rd party tool to convert it.
Download and install the application
Step by step install of the convertor
Run the installer (as administrator)
Click next to accept the license agreement
Click Next on the license agreement
Click Next On short Cuts
Chose if you want a desktop shortcut
The installer will now complete
Convert the image
Once installed open the application (Run as administrator)
Chose Source image location as LOCAL FILE
Browse to the Nano01.vdhx file we created earlier (C:\Temp\ in this example)
Click next and then chose "VMWARE GROWABLE IMAGE" VMDK. This is compatible with VMware Workstation and VMware ESX
Choose next and select IDE Drive
Click NEXT to convert the Virtual machine
Once complete you will see a NANO01.VMDK file in C:\ Temp
Create The Virtual Machine using the VMDK file
Open VMware workstation
Select File > New > New Virtual machine and chose Custom (advanced) then NEXT
Click Next, and Next again on the Hardware compatibility screen.
Select "I will install the operating system later"
Select the operating system as Microsoft Windows and Version Server 2016
Give the server a name (EG – NANO01) and choose a location for it (this will be overwritten later)
Set Firmware type as BIOS
Chose SCSI disk controller
Set your CPU and Memory requirements
Set Bridged Network
Set Logical SAS Controller
On the Hard disk click REMOVE
IMPORTANT – Chose "USE AN EXISTING DISK"
Click Browse and navigate to the VMDK File we converted earlier C:\Temp\Nano01.vmdk
Click finish – IF YOU get the message if you are using a newer version of VMware workstation. This will change the format (Hardware version) – MUST CLICK CONVERT
On the virtual Machines setting page you will see the disk file pointing to your recently converted VMDK
Configure Server Nano to start
Now you have your Nano server ready. You can start the server in a VMware workstation, but you still need to configure access to be able to use the server.
CLICK HERE TO SEE HOW TO DO IT