How to install Microsoft SQL Server 2008 R2 on Windows Server 2012 R2
Reading Time:
6
minutes
I was recently asked to install SQL server 2008 R2 on a freelance project for a client. Its been a very long time since I have used such an old version of SQL. But the process is still very straight forward and best of all, SQL 2008 R2 is still under support from Microsoft (at the time of writing)
Can SQL 2008 r2 run on windows server 2012?
You will be glad to know that Microsoft SQL Server 2008 R2 edition will happily run on Windows Server 2012 Standard Edition. Its important to know that Microsoft officially ended support for SQL 2008 R2 on 19th July 2019. That was quite a while ago, but I can see from the amount of traffic this page gets that it is still a commonly used database system around the world.
Just so you are aware there is a workaround if your business is still heavily reliant on SQL Server 2008 R2. Microsoft will provide free security updates if you migrate your server to Microsoft Azure. Alternatively, you can purchase the updates directly from Microsoft, but be aware it isn't cheap.
This is what Microsoft have to say on the issue:
In Azure: Customers running 2008 or 2008 R2 versions of SQL Server and Windows Server in Azure virtual machines will get Extended Security Updates for free.

On-premises: Customers with active Software Assurance or subscription licenses can purchase Extended Security Updates annually for 75 percent of the full license cost of the latest version of SQL Server or Windows Server. Customers pay for only the servers they need to cover, so they can reduce costs each year as they upgrade parts of their environment.

https://azure.microsoft.com/en-us/blog/announcing-new-options-for-sql-server-2008-and-windows-server-2008-end-of-support/
How to install SQL Server 2008 R2 on Windows Server 2012 R2
This is a step-by-step guide to install SQL Server 2008. You will need:
copy of Microsoft Windows Server 2012 Standard R2 (64bit edition) – SQL Server Download
copy of Microsoft SQL Server 2008 Standard R2 (64bit edition)
a valid license for SQL & Windows
Step 1 – Prepare Windows Server for the installation of SQL 2008
For Windows Server 2012 R2 builds there is a requirement to install .NET framework 3.5. This feature is not installed by default in 2012 R2 Builds as this has been superseded by new versions of .net.
If you do not follow this step you will get an error like:
"error installing microsoft net framework 3.5 sql server"
From Server Manager, select Manage and then Add Roles and Features Wizard.
Select Role-based or feature-based installation.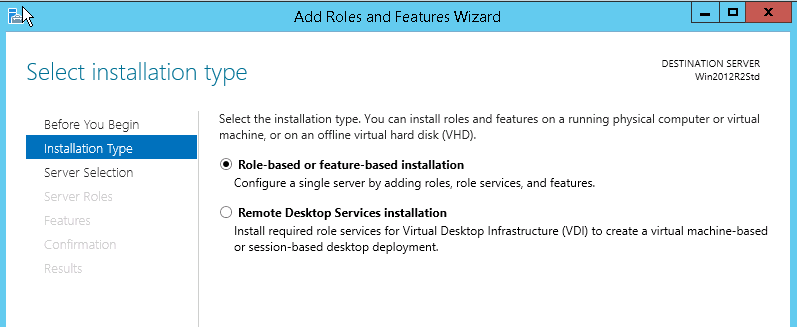 On the Select Destination Server screen choose the local server from the server pool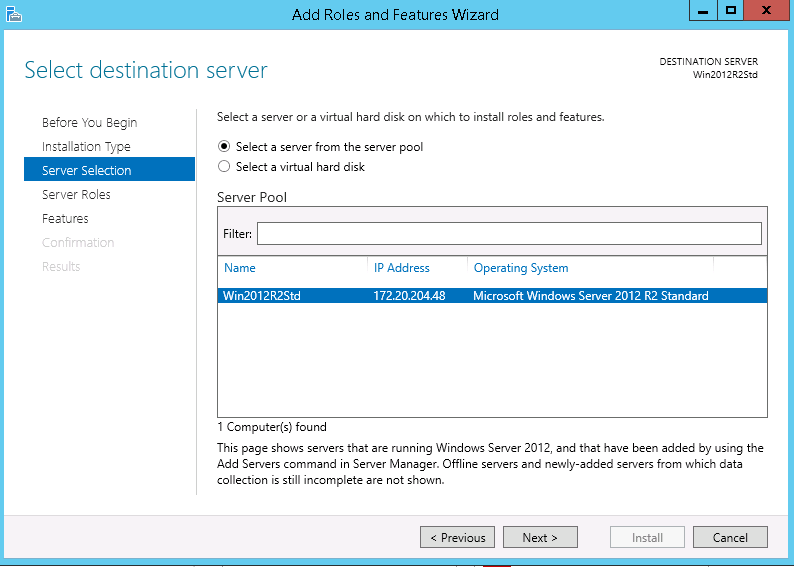 Skip to Select features and choose .NET Framework 3.5 Features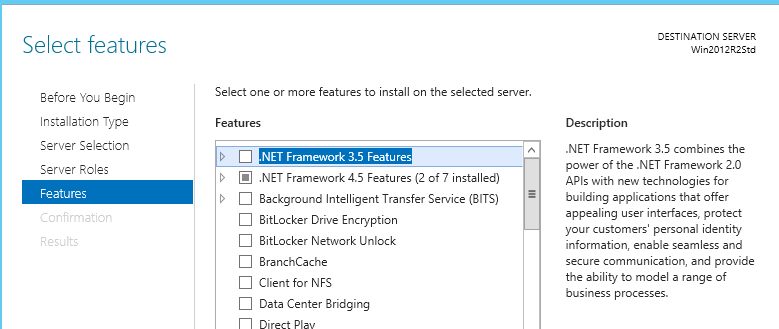 Next, insert the Windows Server 2012 R2 media to the Server.
On the Confirm installation selects select specify and alternative source path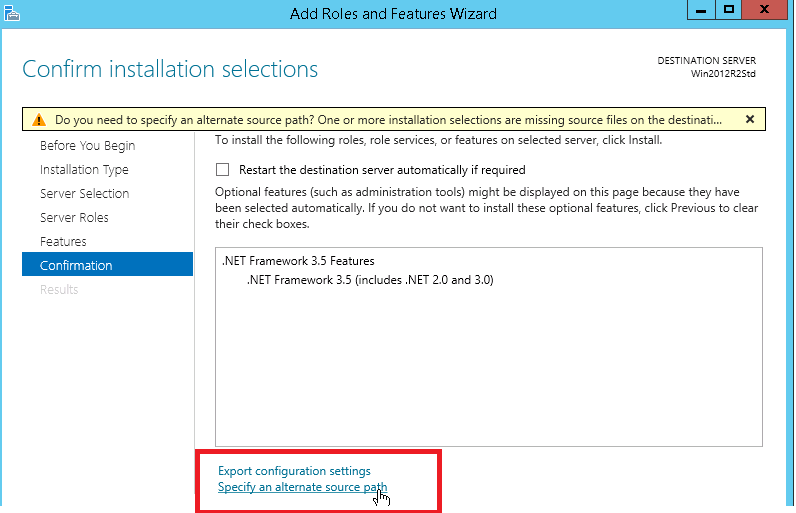 Source path is usually Z:\Sources\SXS
(whichever Drive letter you have mapped the DVD Drive too).
(For the example below the source DVD was the D:)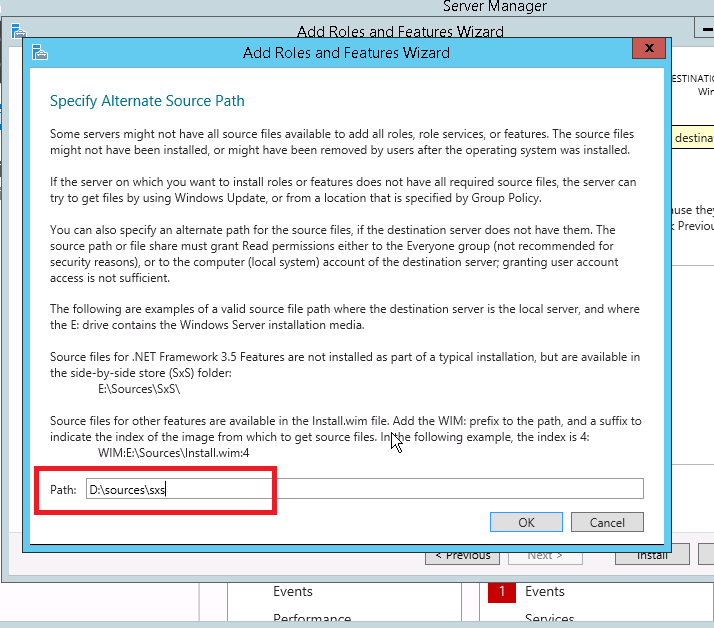 Click OK and Install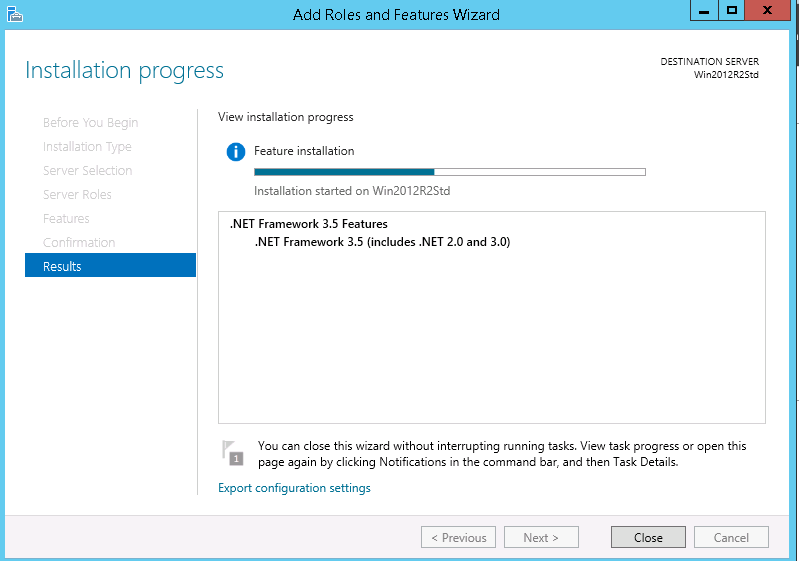 This completes the installation of .NET 3.5 Framework. Installation will take several minutes, no reboot is required.
Note : If you do not point the source files of .NET 3.5 to the Windows Server 2012 media, the installation will fail, and SQL Server will also fail to install.
Step 2 – Install SQL ServerSQL
Insert SQL Server 2008 R2 Media into server.
Run Setup from DVD.
Select Installation then select New installation add features to an existing installation.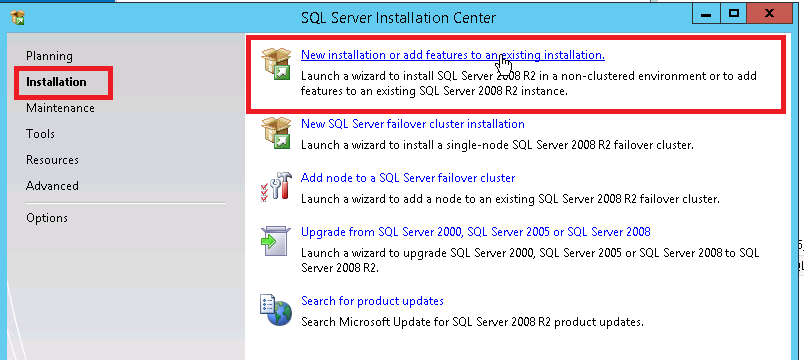 A pre-installation server test will now run.
Click next after pre-test completes.
Enter product key provided by Customer (or see project manager).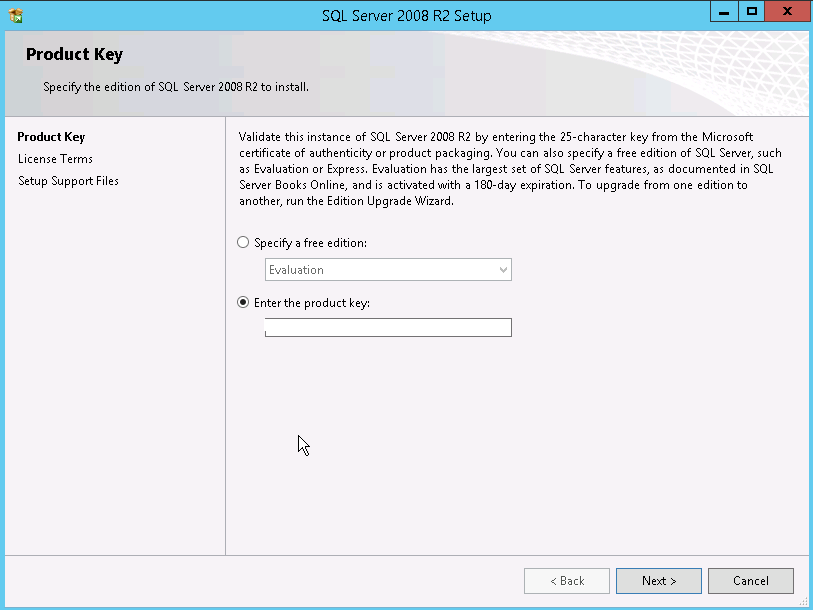 Accept the Licence terms and conditions.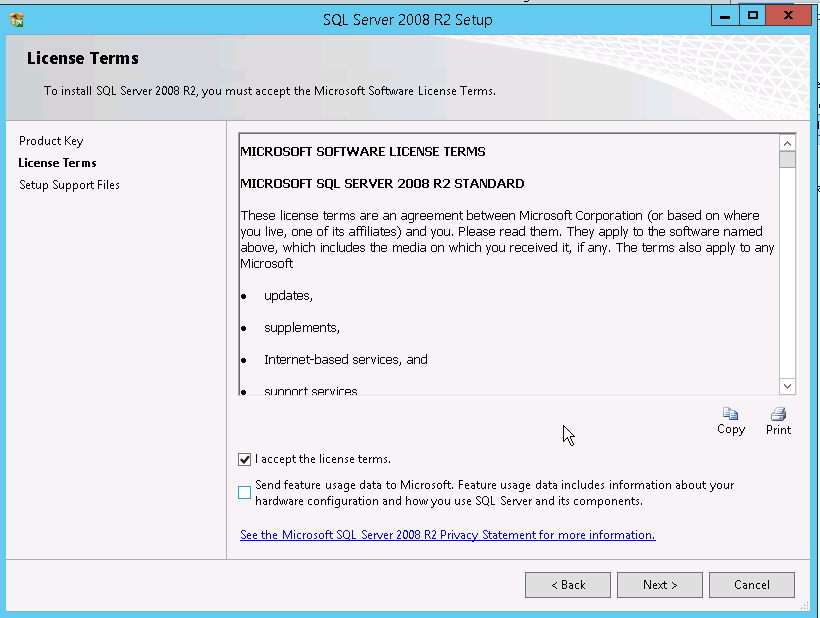 Click install to setup support files.

Click Next and then select SQL Server Feature Installation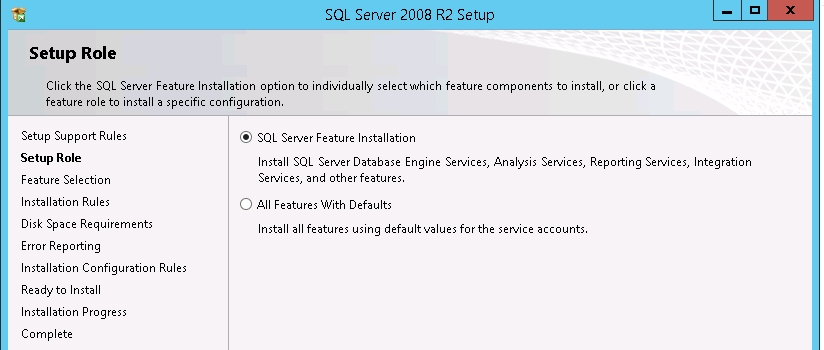 Select ALL instance features (This has been requested in advance by the customer).
Ensure Shared Feature Directories are pointing to the D:\ Drive.
Click next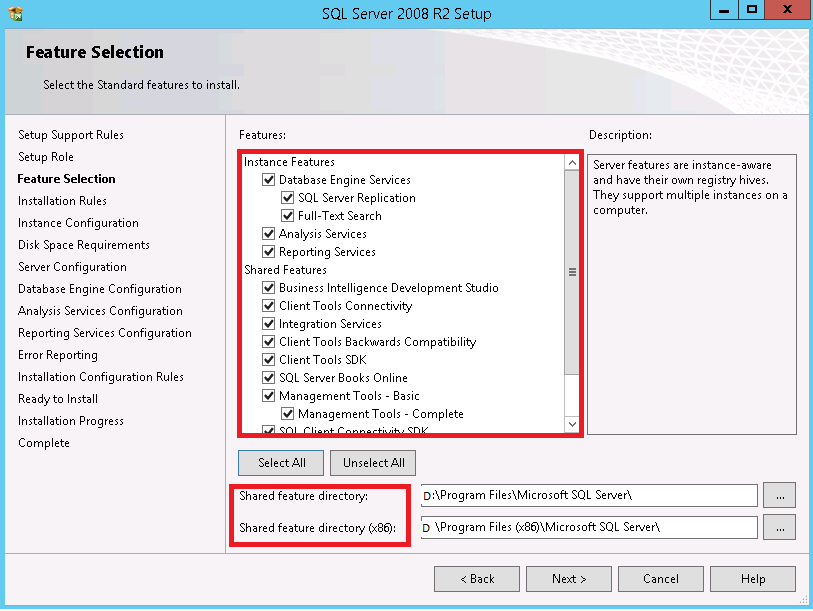 On Instance Configuration, leave as Default instance, click next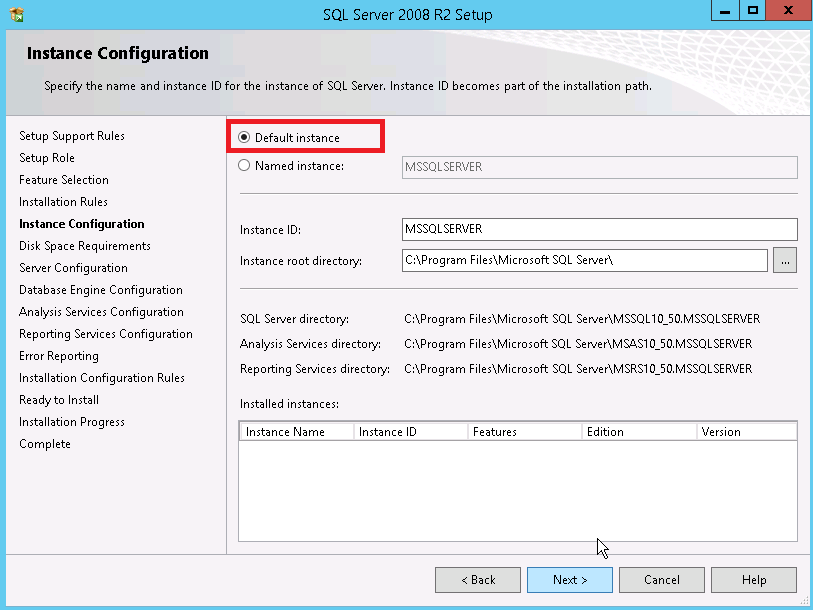 On the Server configuration screen, change account Name to NT AUTHORITY\SYSTEM. No Password is required. This will be changed by the customer after handover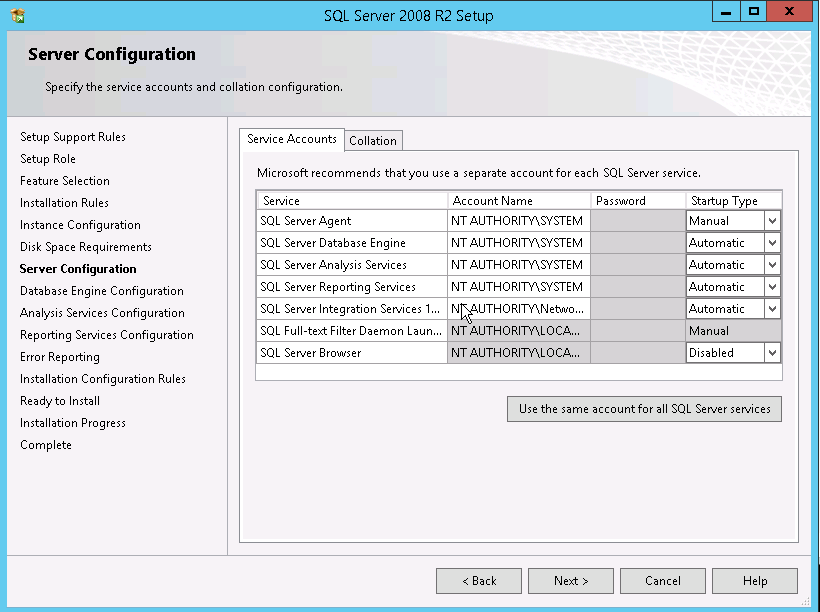 Important :
On Database Engine Configuration ensure you select
Mixed Mode (SQL Server authentication and Windows authentication).
Input the pre-defined password (this is for the SA account).
It is also advised to add the local administrator as a SQL Admin in the Specify SQL server administrators section.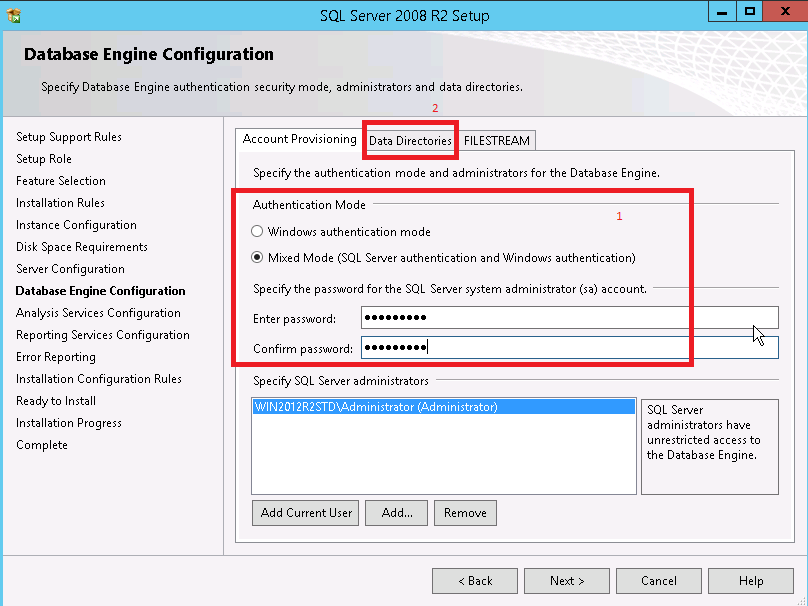 Under the Data Directories tab ensure you chose:
S:\ for Database files
L:\ for Logs

On the Analysis Services configuration, add the Current User
(This can be changed by the customer later in SQL Server Management Studio)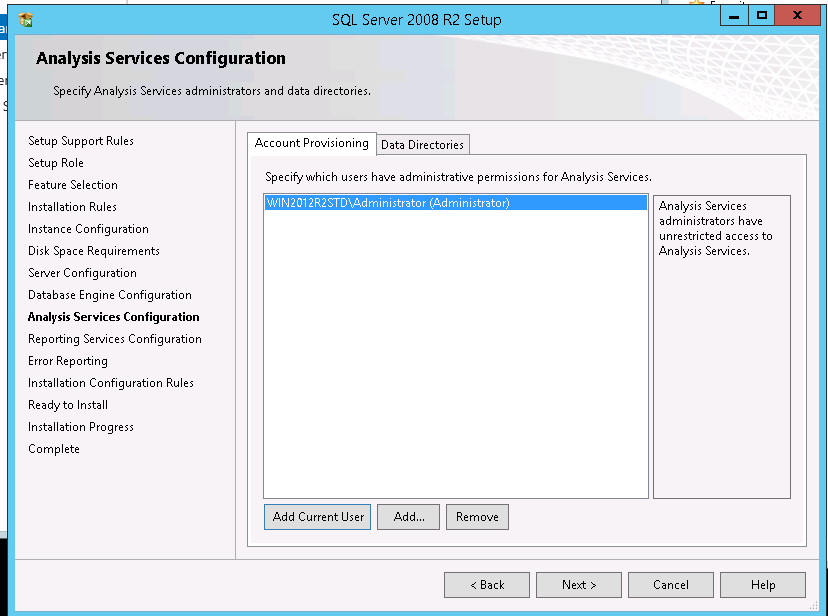 Under Reporting Services Configuration select "install, but do not configure the report server" – (This can be changed by the customer later in SQL Server Management Studio)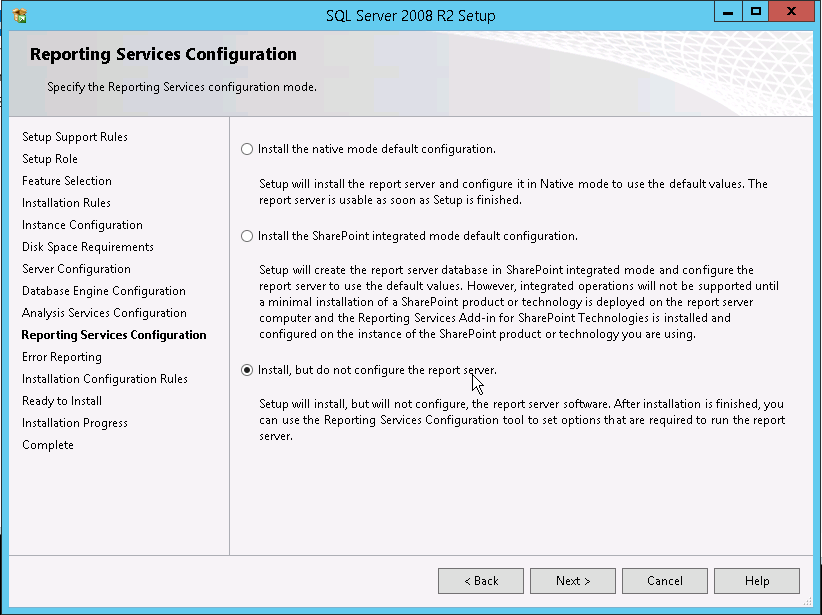 On the next screen, Error Reporting, ensure tick box is blank and click next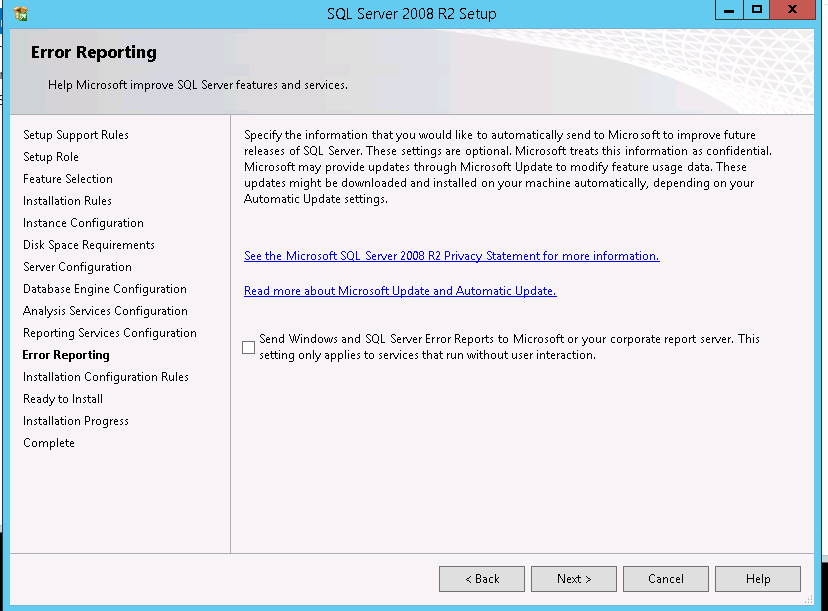 Click Next to bring up final screen "Ready to install" and chose INSTALL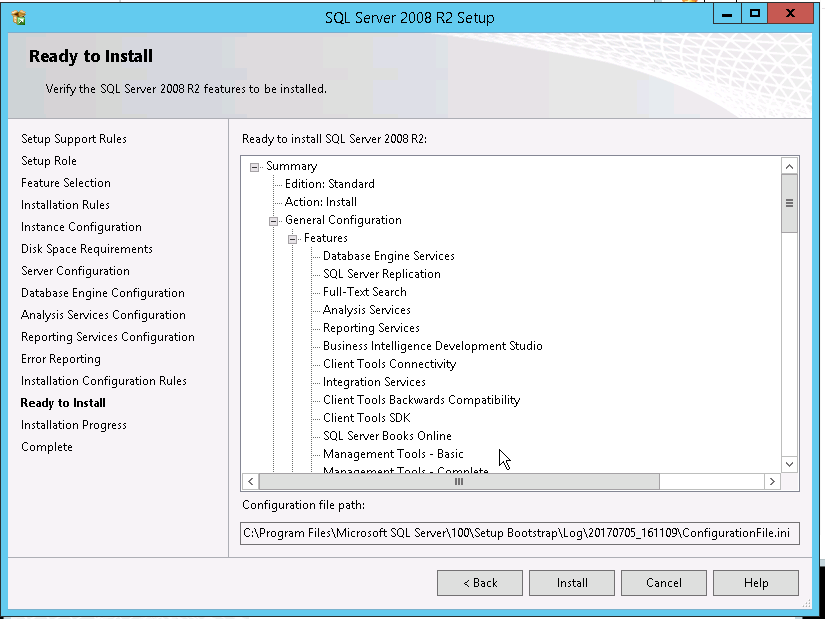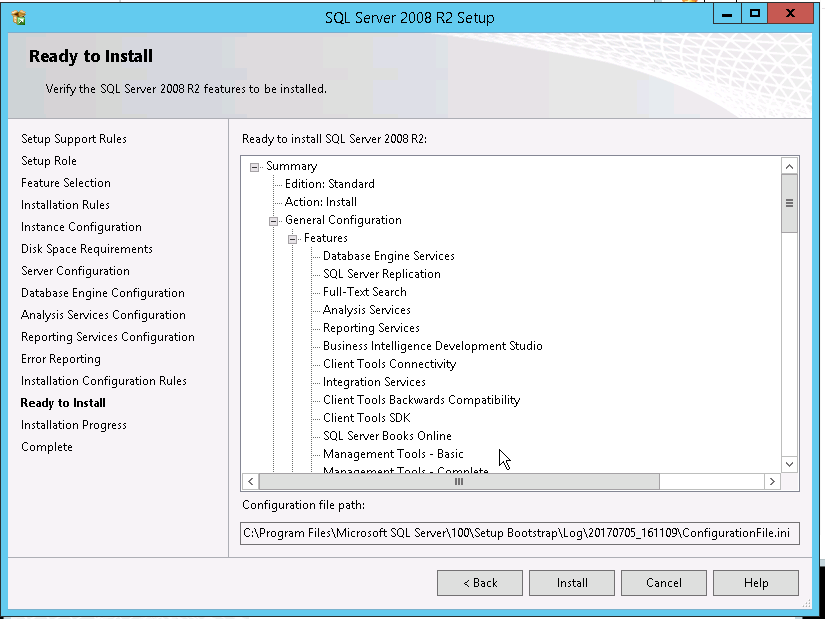 The installation will take about 15 minutes to complete.
Once completed, open SQL Server Management Studio and log in with the Mixed Mode SA account you created earlier.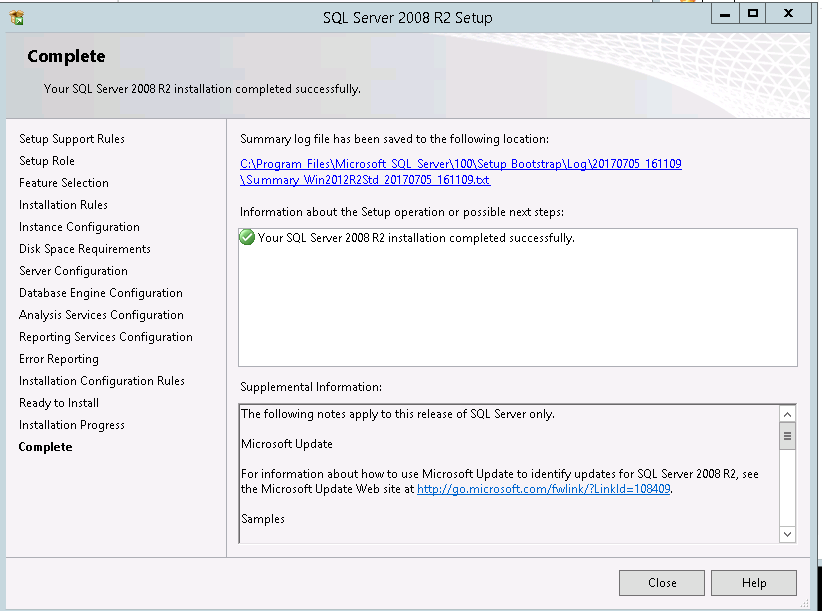 Log in with SA account or Administrator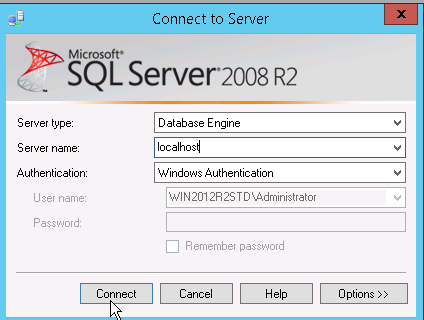 Expand the column on left, if you have a green "play" button SQL is running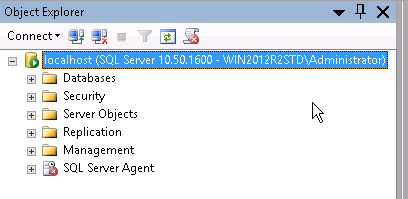 Upon completion, it is recommended that you update sql using Windows Update.
If you want to install the latest version of Microsoft SQL Server Management Studio, I have created this handy procedure : Link to sql server management studio installation.
If you prefer mySQL or MariaDB, check out this guide for all your Linux sysadmin needs.