Installing Glances on Linux
Reading Time:
3
minutes
What is Glances?
Glances is a really cool Linux monitoring tool written in Python and available on nearly all Linux Distributions. The project's full title is Glances – an eye on your system, and it is a popular Github project written by NicoLargo and maintained by the community.
Glances is a great tool for monitoring a server. It gives detailed information about CPU, MEM, DISK, and server performance, it can also be hosted as a webserver which is a great feature, allowing system administrators to give developers real-time monitoring of a platform during upgrades or peak season.
Click here for Glances GitHub site – https://github.com/nicolargo/glances
How to install Glances on Centos 7 / Red Hat 7
Here is a quick guide to installing Glances in CentOS 7.
Step 1 – Install the Pre-Reqs
It is recommended to complete a yum update prior to proceeding, this ensures that any dependencies are at the right level
yum update -y
Next install wget if you do not already have it
yum install wget -y
Step 2 – Add the Fedora Repo That Contains Glances
Add the fedora repo to CentOS – this is not a default repository so you have to manually add it.
wget https://dl.fedoraproject.org/pub/epel/7/x86_64/Packages/e/epel-release-7-11.noarch.rpm
Install the package with RPM
rpm -ivh epel-release-7-11.noarch.rpm

Step 3 – Install glances
yum install glances -y

Step 4 – Start Glances
glances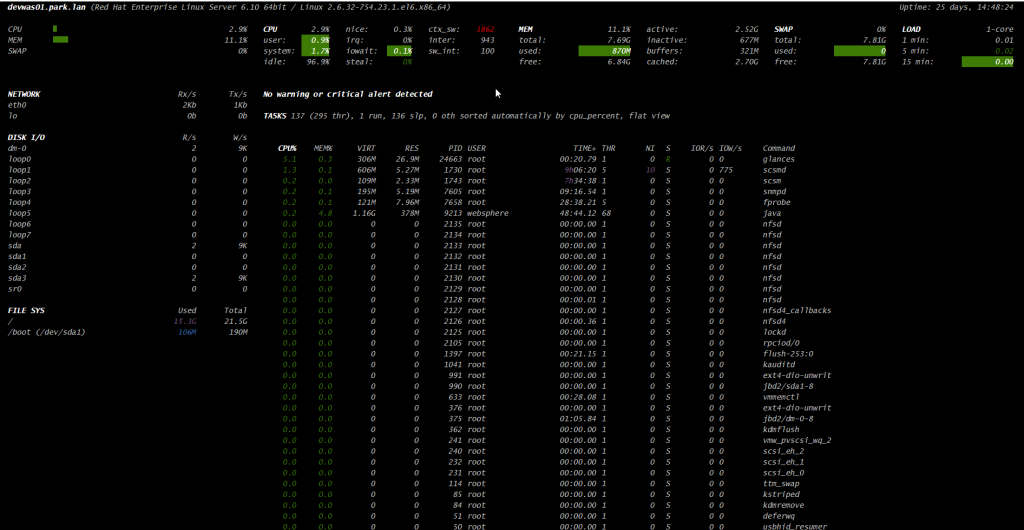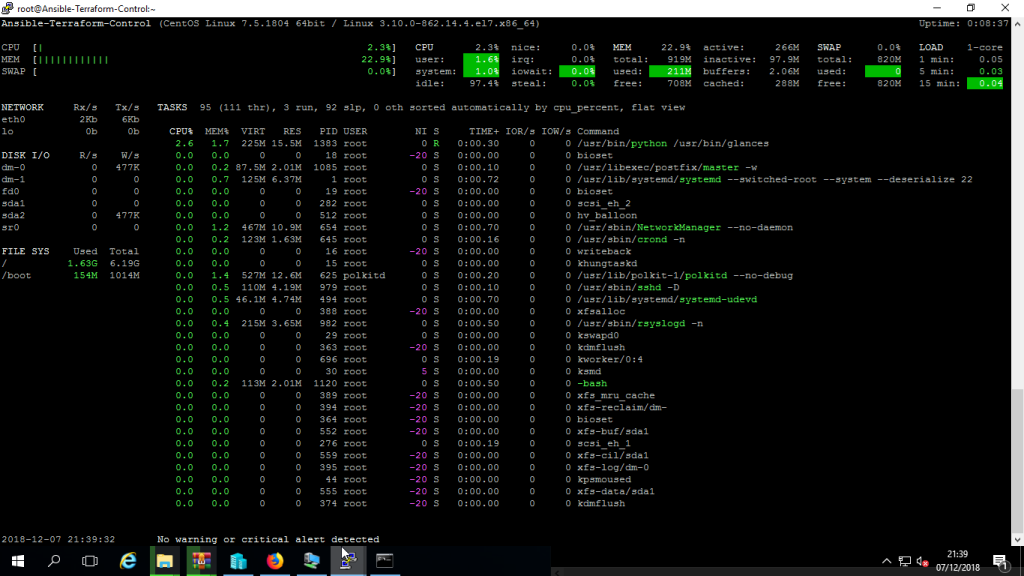 Requirements
python 2.7,>=3.4
psutil>=5.3.0 (better with latest version)
Optional dependencies:
bernhard (for the Riemann export module)
bottle (for Web server mode)
cassandra-driver (for the Cassandra export module)
couchdb (for the CouchDB export module)
docker (for the Docker monitoring support) [Linux-only]
elasticsearch (for the Elastic Search export module)
hddtemp (for HDD temperature monitoring support) [Linux-only]
influxdb (for the InfluxDB export module)
kafka-python (for the Kafka export module)
netifaces (for the IP plugin)
nvidia-ml-py3 (for the GPU plugin)
pika (for the RabbitMQ/ActiveMQ export module)
potsdb (for the OpenTSDB export module)
prometheus_client (for the Prometheus export module)
py-cpuinfo (for the Quicklook CPU info module)
pygal (for the graph export module)
pymdstat (for RAID support) [Linux-only]
pySMART.smartx (for HDD Smart support) [Linux-only]
pysnmp (for SNMP support)
pystache (for the action script feature)
pyzmq (for the ZeroMQ export module)
requests (for the Ports, Cloud plugins and RESTful export module)
scandir (for the Folders plugin) [Only for Python < 3.5]
statsd (for the StatsD export module)
wifi (for the wifi plugin) [Linux-only]
zeroconf (for the autodiscover mode)
Here is the interactive command list
Sort process list automatically
If CPU

>70%

, sort processes by CPU usage
If MEM

>70%

, sort processes by MEM usage
If CPU iowait

>60%

, sort processes by I/O read and write
A – Enable/disable Application Monitoring Process
b – Switch between bit/s or Byte/s for network I/OB
B – View disk I/O counters per second
c – Sort processes by CPU usage
d -Show/hide disk I/O stats
D - Enable/disable Docker stats
e – Enable/disable top extended stats
E -Erase current process filter
f -Show/hide file system and folder monitoring stats
F – Switch between file system used and free space
g – Generate graphs for current history
h – Show/hide the help screen
i – Sort processes by I/O rate
I – Show/hide IP module
l – Show/hide log messages
m – Sort processes by MEM usage
M – Reset processes summary min/max
n – Show/hide network stats
N – Show/hide current time
p – Sort processes by name
q|ESC|CTRL-C – Quit the current Glances session
Q – Show/hide IRQ module
r – Reset history
R – Show/hide RAID plugin
s – Show/hide sensors stats
t – Sort process by CPU times (TIME+)
T – View network I/O as combination
u – Sort processes by USER
U – View cumulative network I/O
w – Delete finished warning log messages#
W – Show/hide Wifi module
x – Delete finished warning and critical log messages
z– Show/hide processes stats0
Enable/disable Irix/Solaris mode
Task's CPU usage will be divided by the total number of CPUs
1Switch between global CPU and per-CPU stats2Enable/disable left sidebar3Enable/disable the quick look module4Enable/disable all but quick look and load module5Enable/disable top menu (QuickLook, CPU, MEM, SWAP and LOAD)6Enable/disable mean GPU mode/Switch between process command line or command name